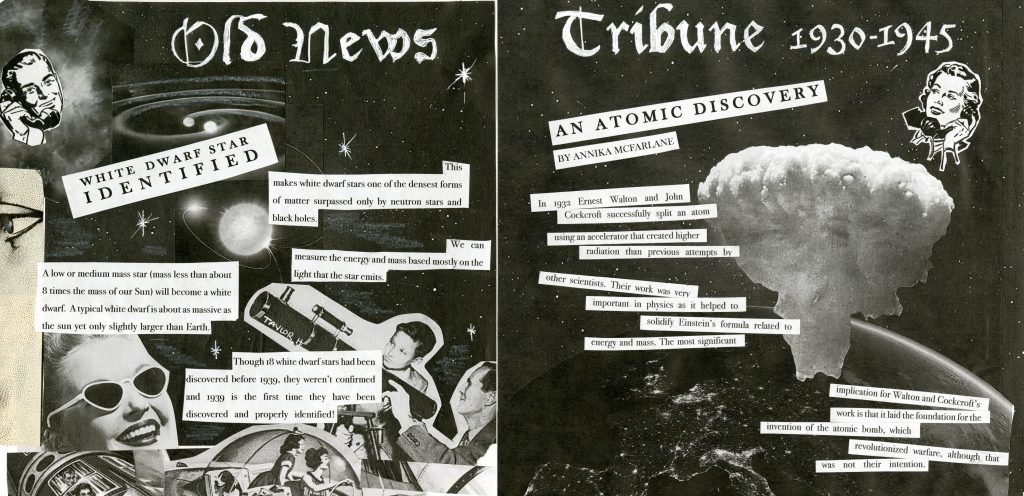 This week we were tasked with working in teams to create our spreads, I was with Taylor and we did a science spread about the splitting of the atom and the identification of white dwarf stars.
For this spread we wanted to go with a newspaper collage feel. Originally it was very static, there was a lot of white space and it looked like a child made it, so we had to rethink things. We went back to some of the thumbnails I had of the earth with a big atomic bomb explosion and decided to have more of a random newspaper collage feel rather than the typical newspaper layout. To do this we took cuttings of images that would appear in newspapers and also fit the time period. On the right I broke up all of my text into lines so it felt more disjointed, to represent how the atom was split up, and it's because of this that many lives were torn to pieces. It's also meant to look like some of the poetry that was happening at the time. We wanted the spread to feel like a fun and interesting collage so we have elements like the exaggerated explosion coming off of the earth, the woman looking up with the sunglasses and the other collage images. To add some cohesion we put the two illustrations of people on the phone to connect the two pages and to also speak to how news is also spread by word of mouth. Keeping with the newspaper concept, we gave our spread a newspaper title. We chose to do it in a gothic type style because many newspapers' masthead use this kind of type.
Overall I think we did fairly well. It was hard to split up the work and make a cohesive spread. I agree with the criticism that we should have stuck to collage for the title as the hand-lettered treatment stands out too much. I also think that the two pages could feel more cohesive in the body copy type treatment, and the amount of collaged imagery could have been more equally divided as the left feels busy making the right page feel empty. I would give us an 8/10.