Beatrix Potter was an English illustrator born on July 28, 1866. As a child, Potter loved drawing and painting and would often draw animals many of which were her pets. These animals included lizards, mice, rabbits to name just a few. Two of her earliest and favourite models were her pet rabbits Benjamin Bouncer and Peter Piper. As a child, she and her family often visited the Scottish countryside, which gave her a deep appreciation and love for the idyllic landscapes.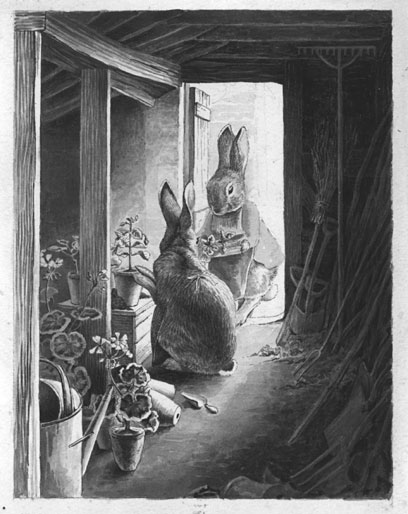 Before Beatrix created the work for which she is well known today, she often illustrated her favourite children's stories. She then went on to write Peter Rabbit. Originally it was turned down by publishers so she decided to produce 250 copies herself to give to family and friends. After her success with her network, a publisher agreed to publish the book under their name and it became an immediate bestseller. She then went on to create the rest of the stories for which she is known such as The Tale of Squirrel Nutkin and The Tailor of Gloucester.
Something about her that is reminiscent of many freelancers today is that she essentially created her own merchandise when she created the first Peter Rabbit doll herself. She went on to patent the character and create even more merchandise to sell. She was quite a savvy lady.
When it comes to her work I find it very nostalgic. I grew up having peter rabbit dishes and I remember them fondly. I imagine that's how many people feel when they see her work, it reminds us of childhood and reminds us of the wild imaginations that we once had. I think she is an exceptional draftslady and storyteller. Her illustrations are charming, convincing and oh so loveable. A large part of this is her subject matter, but I do also think that it's also because of her style. Because a lot of it is done in watercolor it feels soft and approachable, perfect for the content and stories she creates.
Sources:
https://www.peterrabbit.com/about-beatrix-potter
http://www.vam.ac.uk/content/articles/b/beatrix-potter-the-art-of-illustrating/