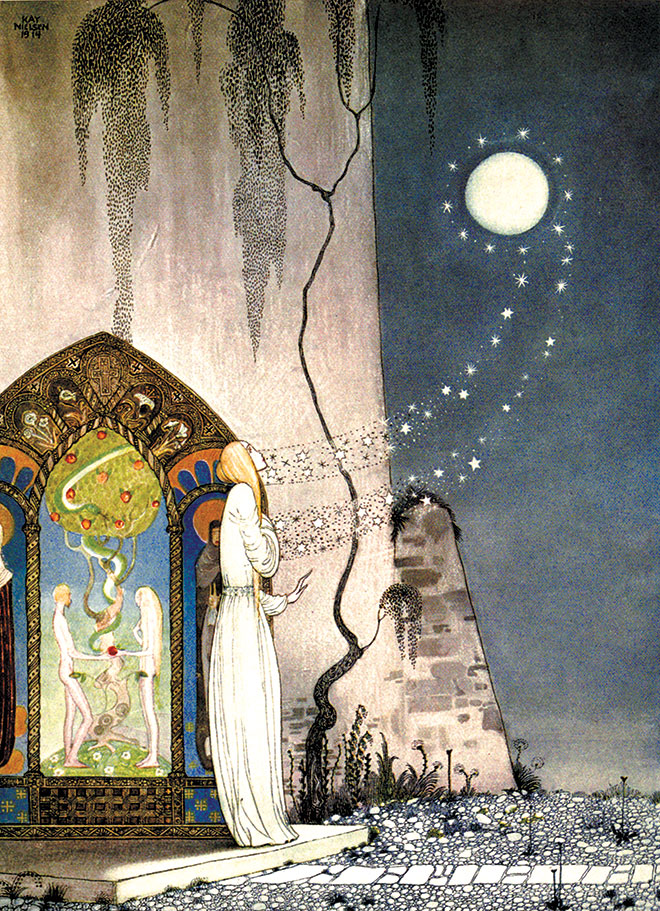 Kay Nielsen was a Danish illustrator born on March 12th, 1886. He came from an artistic family as both of his parents were actors. He studied at the Académie Julian and Académie Colarossi. After that he was was commissioned by Hodder and Stoughton to illustrate a fairy tale book. This is was his big break into the world of illustration. He went on to be a very sought after illustrator for fairy tales. He also went on to help with stage scenery for the Royal Danish Theatre. He was very prolific in his work for fairytale books.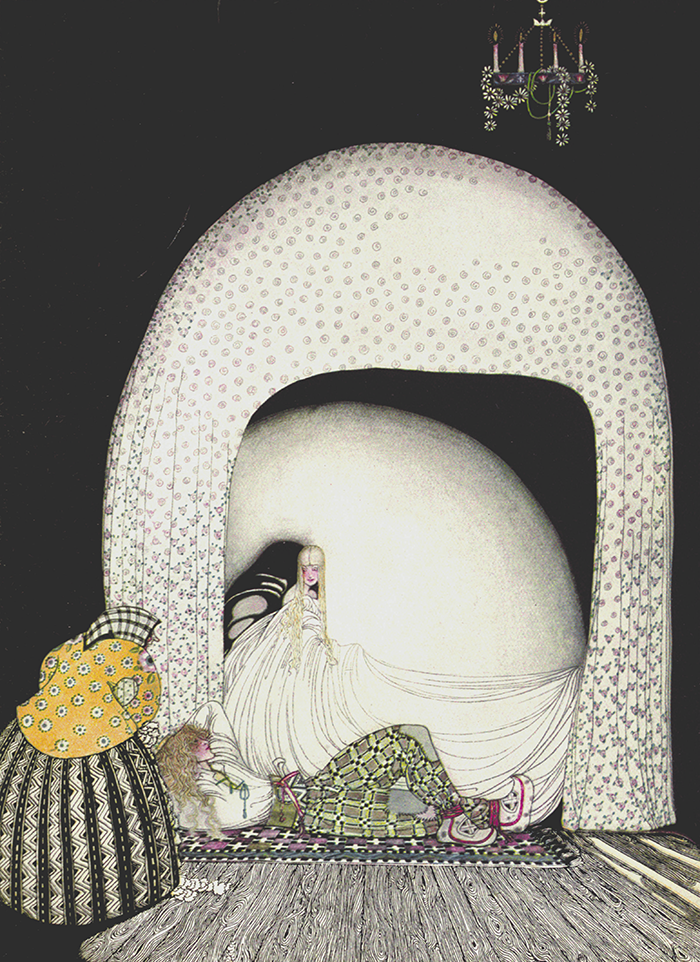 Eventually, Nielsen found himself in California where her worked for numerous companies in Hollywood. He ended up at Walt Disney where he helped sketch some of the sequences in Fantasia. He also helped produce concept paintings for The Little Mermaid, unfortunately the film wasn't completed in his lifetime. He was fired form the company in 1941 and was very upset about it. He returned to Copenhagen in search for work but found that his illustrations were no longer in high demand. When he finally passed away in 1957 he had been living in poverty for some time. It is a sad end to such a lovely illustrator's life.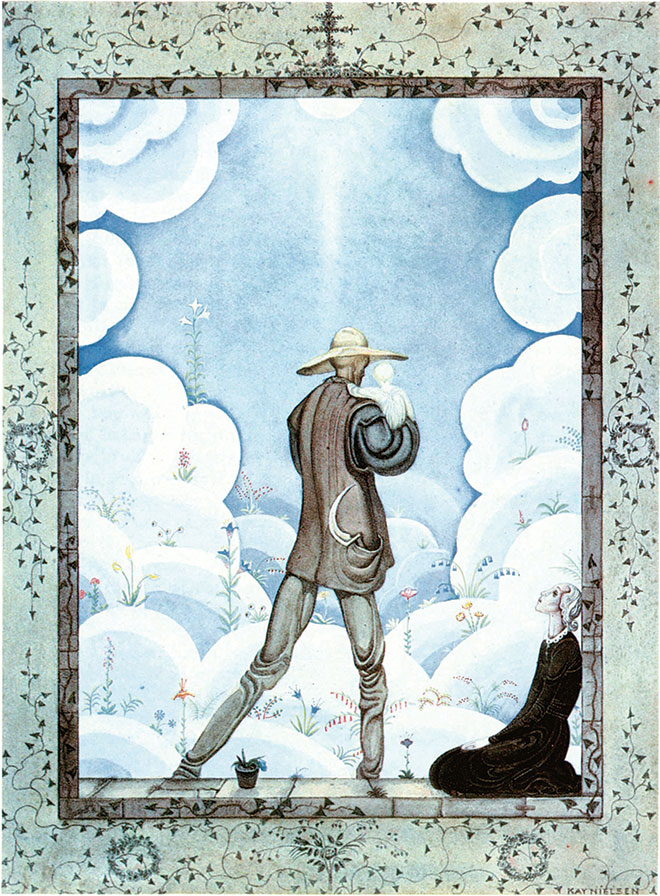 Personally, I adore Kay Nielsen's work. His simple compositions are beautiful and he is a master of using negative space. His simplicity, design and at times flatness is very reminiscent of the Japanese Ukiyo-e prints to me. Even though his work feels flatter than many other illustrators at the time, I think it works well with his style and his mastery of composition is so wonderfully executed that even if you dislike the flatness of his style, it's difficult to be left un-enchanted by his work.
Something I love about his style is that his linework isn't too thick or overbearing, in fact, oftentimes there is no linework. I think this is something I admire partly because of the fact that in my own design and illustration work I steer away from having line work or strokes in what I create. I also really admire his masterful skill in using negative space as I always find myself filling all the empty space on my page and ending up with illustrations that are too cluttered and busy.
Overall his work I think his work is quirky and enchanting and I'm excited to try and channel my inner Kay Nielsen for our fairy tale assignment.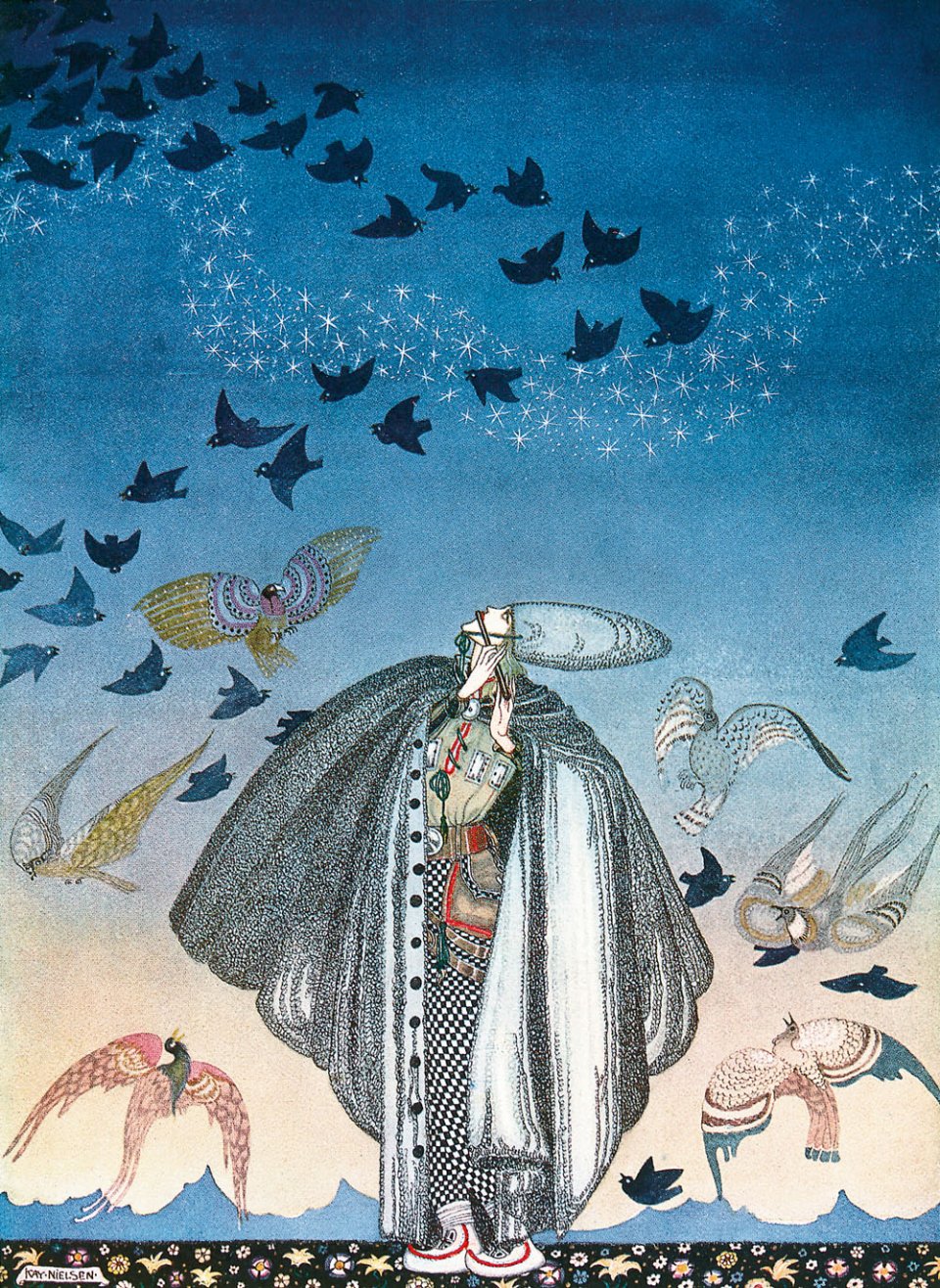 Sources:

http://www.pookpress.co.uk/project/kay-nielsen-biography/