Saul Tepper was born in New York on December 25th, 1899. He was the son of immigrants who came from somewhere in eastern Europe. As many other illustrators, artists and designers, Tepper found great success in the Big Apple. By the age of 19 he had his own lettering studio and in his spare time studied art in several of the arts schools in the city. One of his greatest influences was Harvey Dunn.
After graduating from school he became a full time lettering man. Now without school taking up all of his free time, he began experimenting with painting oil figures. Eventually much of this work was picked up by magazines such as Liberty, Collier's, Saturday Evening Post etc. With his work getting out there more, he began to be recognized for his style and was highly sught after. He began doing ad work most notably for General Electric, Chesterfield cigarettes, and World War II posters commissioned by the U.S Government.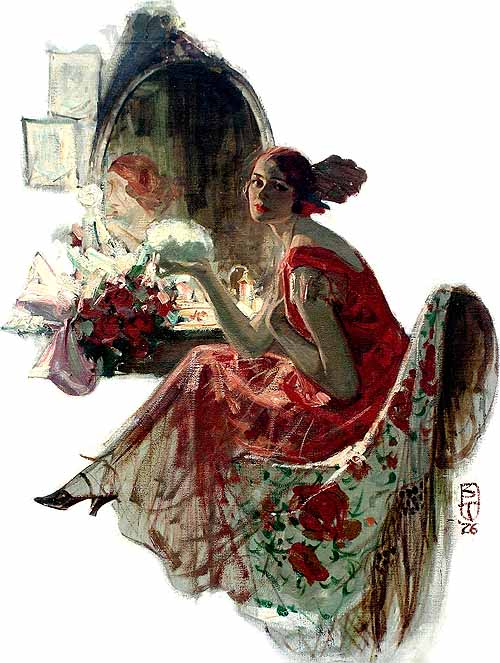 After another successful many years he began to branch out into other things such as music, speaking and mentoring. He is responsible for helping many illustrators to continue pursuing illustration because of his mentorship.
I chose to research Saul Tepper this week because I love the aesthetic of his work. The way he paints using blocky almost flat paint strokes to create form is mesmerizing. I also think that he is great at capturing light which is something I always admire in artists' and illustrators' work. This also plays into his great use of contrast – I find the paintings of his that I like the most are where there is the greatest contrast, and in part this creates the most interesting lighting.
What I also admire about his work is his ability to tell stories. In almost every piece he shows the drama and tension of a moment and while there isn't anything as exciting as an explosion happening he has a way of creating dynamism in the stories he tells. It's a very admirable skill of his.