John Alcorn was an American illustrator and graphic designer known for his work during the 60's-80's. He studied at the Cooper Union for the Advancement of Science and Art. He worked for sometime at Esquire magazine before joining Push Pin Studios as the youngest member at the time. He also worked for CBS.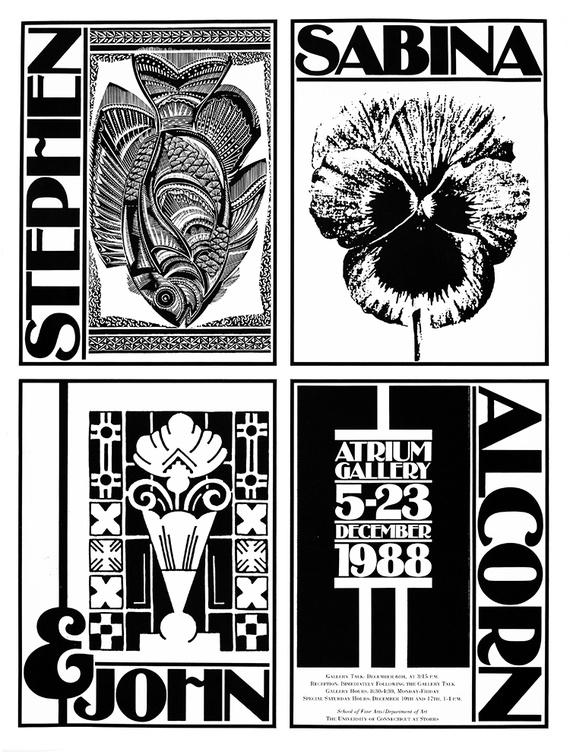 His style is very linear, using lots of flowing lines. His style fit right in with Seymour Chwast and Milton Glaser at Push Pin Studios where they had a very post modern and oftentimes psychedelic style. It was at the studio that John realized he would not strictly be a graphic designer, but began to consider illustration as well. He would often combine traditional and newer methods to create work. The kind of work he did was very versatile. He designed and illustrated for postage stamps, magazines, album covers, packaging, movie titles and beyond.
In 1971 he moved his whole family to Florence where he worked for Rizzoli, creating everything from posters to book typography.
In 1981 he was chosen as Dartmouth College's first artist in residence. Around this time the United States Postal Service also commissioned him to create a stamp for their 'Love' series.
What I love about his work is the simplicity yet complexity of it. He uses a lot of simple flat shapes and line work so in that regard, his work appears to have a certain simplicity to it. However, he is able to use this simple style to create work that is very visually interesting and ornate.
Part of the reason I think I like his work is because it is very graphic and design-like, which makes sense since he was a designer. It fits in with the kind of work I produce and the kind of work I'm currently comfortable with, so that's probably another reason that I was attracted to his work: my personal bias.
It's interesting looking at lots of other designers and illustrators who work currently because it's easy to see the resemblance and influence of his work on many of today's illustrators. Considering his work is from the 60's through the 80's, is pretty remarkable because a lot of it looks like it could be produced today. I guess that goes to show that some work is just timeless, and appeals to audiences well after the time they were created.
Sources:
https://www.theatlantic.com/entertainment/archive/2014/09/john-alcorn-the-4th-beatle-of-graphic-design/379599/