Not because I am so great, though I am, but because all the others are so dreadful.

Leonard Baskin
Leonard Baskin was born on August 15, 1922, into a Jewish family. His father, Samuel Baskin, was a Rabbi. When he was seven, the family moved to New York City. Baskin set his sights on becoming a sculptor at the age of fourteen when he saw a sculpture demonstration at Macy's. From this moment, his career would only grow.
Baskin began studying sculpture at Manhattan's Education Alliance, under Maurice Glickman, who would arrange his first solo show for him in 1939. Baskin went on to study at New York University's School of Architecture and Allied Arts as well as Yale University. After three years in the United States Navy, he spent time traveling in France and Italy, studying art.
During his time at Yale, Baskin developed an interest in printing, which would come to form an integral part of his long career. Inspired by William Blake, who worked as both a fine artist and a printer, Baskin founded Gehenna Press. The first book he printed was a selection of his own poems named On a Pyre of Withered Roses. Over 50 years, until Baskin's death in 2000, Gehenna would produce about 100 extremely high-quality, elegant books. For a small, private printing company, the output and demand for products was outstanding, as well as its success.
Baskin's career in a multitude of fine art medias is perhaps what he is best known for, however. The breadth and variety of his work is astounding. His massive sculptures are some of his more well known works, among them the Franklin Delano Roosevelt Memorial sculpture, the Woodrow Wilson Memorial sculpture, and the Holocaust Memorial in Ann Arbor, MI. He also created huge, life-size woodcut prints, painted, and drew.
The female form is useful for some ideas, but the colossal male is better suited to the ghoulish ones I try to portray.

Leonard Baskin
In his work, Baskin was inspired often inspired by poetry. He worked closely with the British poet Ted Hughes, and even moved to England for nearly a decade to collaborate on books and art with him. In his work can be seen a sense of his religious upbringing, and a sensitivity to the chaos and upheaval that was the 21st century.
Baskin was able to work in nearly any medium he wished, with great success. In this respect, Leonard Baskin is quite a remarkable and unique artist. Not only was his fine art well received and influential, but he was a well-read and extremely educated man. He wrote, critiqued art, and taught printmaking and sculpture at Smith College and Hampshire College, both in Massachusetts. Baskin's many awards include a Caldecott award for his children's book illustration, a Guggenheim Fellowship, a Gold Medal of the National Academy of Arts and Letters, and innumerable retrospective exhibits while he was still alive. Today his work is displayed in the permanent collections of the Metropolitan Museum of Modern Art, the Museum of Modern Art, the National Museum of American Art, the Vatican Museum, the Seattle Art Museum, and the Hirshhorn Museum and Sculpture Garden.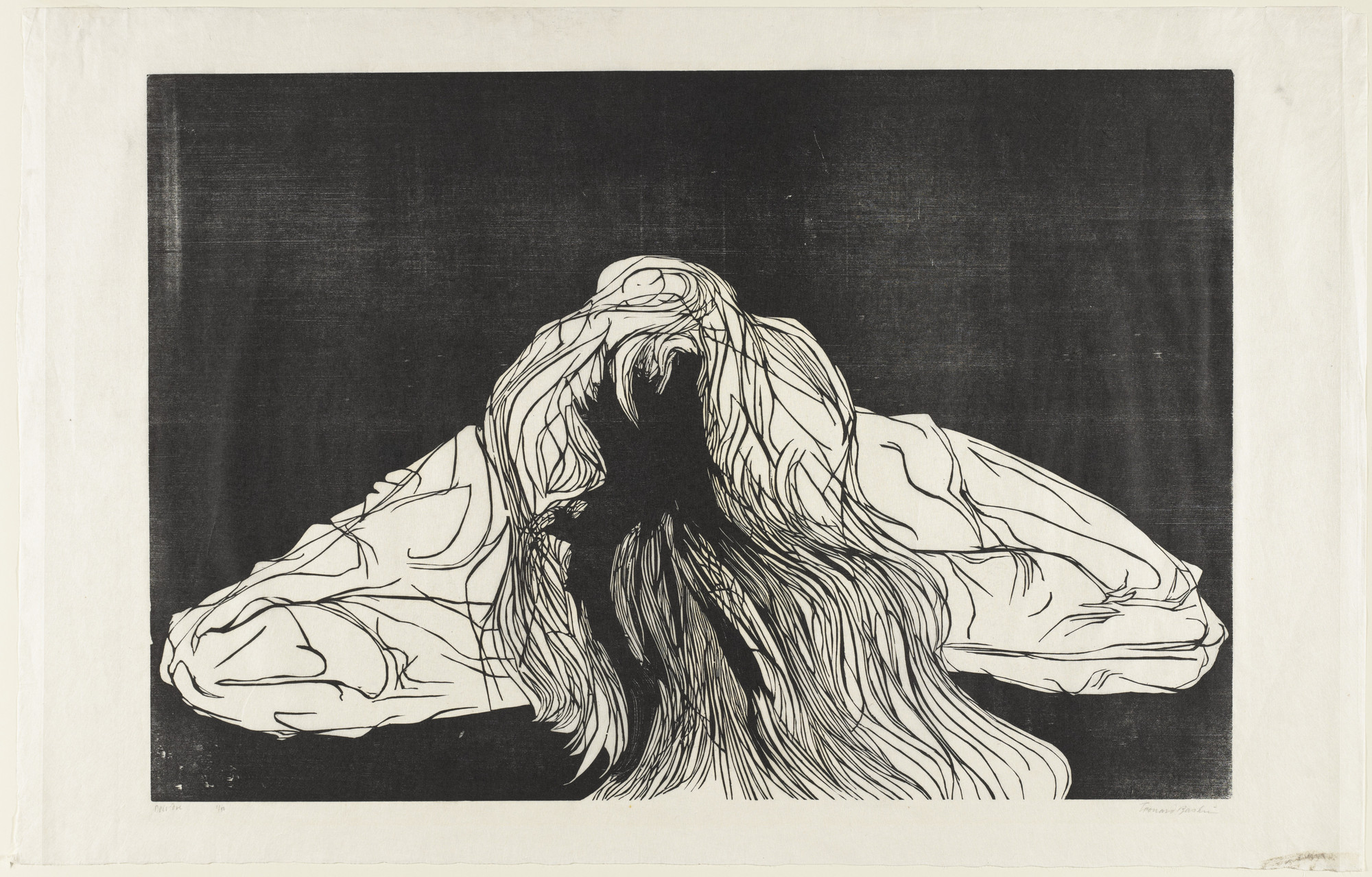 Sources
https://www.moma.org/artists/369?locale=en
https://en.wikipedia.org/wiki/Leonard_Baskin
https://www.davidsongalleries.com/artists/modern/leonard-baskin/
https://www.gseart.com/artist/leonard-baskin/bio
https://www.britannica.com/biography/Leonard-Baskin