Tomi Ungerer was born Jean-Thomas Ungerer on November 28, 1931. His father – to whom he attributes his artistic skill – was an artist, historian, and engineer, but died in 1935 when Ungerer was 3 1/2 years old. His childhood was marked by the deep divides of the region he was raised in and the scars of WWII, something he would later explore in his memoir, À la Guerre Comme À La Guerre (A Childhood Under the Nazis). During the war, Alsace was annexed by the Nazis, and French was banned in schools. From then on, until its liberation, the Nazis indoctrinated students every day with their teachings. Ungerer viewed the battles in 1945 that led to the eviction of the German armies from the region, and made drawings of these events.
It was total, systematic brainwashing every day

Tomi Ungerer

Ungerer began studying at the Municipal School of Decorative Arts in Strasbourg, but after failing his baccalaureate exams, took time off to hitchhike his way around Europe. In 1956, he headed off to New York City with $60 and his drawings.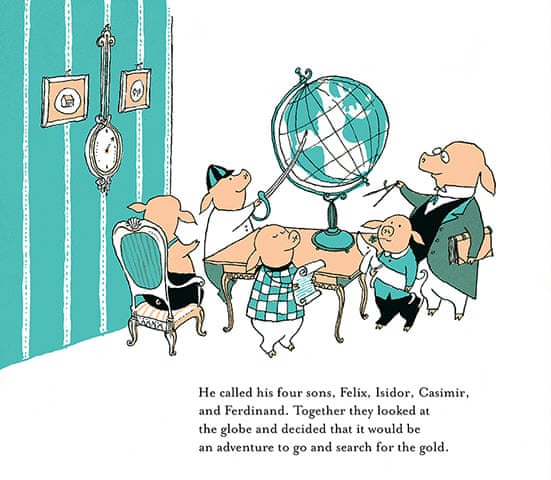 Here his first children's book, The Mellops Go Flying, was published by Ursula Nordstrom of Harper and Row (she would later go on to publish Shel Silverstein), and it met immediate success. This would begin a career of famous children's books, including Critter, Adelaide, Emil, The Three Robbers, and Rufus. Ungerer also began doing advertising work for the prominent magazines in New York.
The publication of two books aimed at the adult reader, The Underground Sketchbook of Tomi Ungerer and Fornicon, which both featured comical erotic illustrations, led to a change in the nature of his work. This was in part due to the fact that he was no longer considered desirable or appropriate to hire for children's books, but also because the political climate of the time. The Vietnam war was breaking out, and Ungerer became increasingly invested in political work. A strong supporter of the Civil Rights movement as well as the anti-war movement, he created posters and satire illustrations for both.
Ungerer found himself, around this time, a sort of exile. Having been somewhat shunned from the illustration scene in America, he and his wife moved to Nova Scotia and then to Ireland. Europe, he found, was far more receptive and less sensitive to the erotic and shocking nature of his work.
Sources
https://en.wikipedia.org/wiki/Tomi_Ungerer
http://www.drawingcenter.org/en/drawingcenter/5/exhibitions/9/upcoming/816/tomi-ungerer-all-in-one/