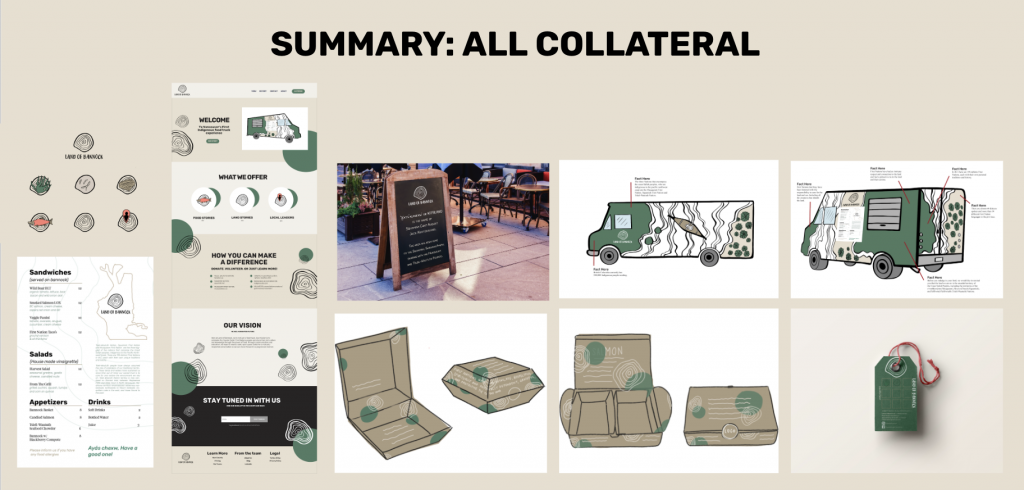 Our group's goal for this project was to help increase the visibility of the three major aboriginal bands residing in the lower mainland and surrounding area, the Squamish Nation, the Musqueam and the Tseil-Waututh. Working as a group we divied up the research into categories in order to cover more ground. Upon reconvening to share our finders we agreed on the shared connection that the First Nations People have with the land as our focus. Based on this insight we brainstormed ideas and applications. We sketched out tons of ideas and drafted up some of our better project approaches, in the end deciding on a food truck as an interesting and potentially effective solution. It also had a lot of potential collateral output ensuring our group had our work cut out for us. An educational experience built around food is a great entry point to spark interest, making information and learning about it more engaging and digestible (pun intended). This project came with it's hurdles but we dealt with them accordingly and consulting the film students was very helpful in our result in the end.
The course of this project has provided me with significant insight and raised my awareness surrounding indegenous people and their relationship with Canada. It's still hard to wrap one's head around the fact that there is little to no education on them and their history included in the public school curriculum as we could all benefit from it. Aside from what we gathered through research, learning about proper conduct and procedures when dealing with indigenous involvement in the industry was very eye-opening. As deisgners, seeking out culture consultants, ensuring permission is receieved when neccessary and recognizing appropriation is very important.
Due to the nature of Canada's past in dealing with indigenous people, its certainly understandable that resentment towards white people is harboured by some. I think I speak for the whole class in that having no first nation's heritage and getting thrown off the deep end into this information for this project, we had our worries. The last we wanted to do was come off as ignorant, inappropriate or offend someone. Because of that, it was very refreshing to meet with Michelle and the film students. Their advice and knowledge went a long way in helping us all with our perceptions and confidence. Reassuring us that its okay to ask Questions, and not know or be wrong but it's definetly not okay to make assumptions and act on them.
Working in a group definitely allowed us to cover more territory and our work sessions prompted some really good, interesting discussions and dialogue surrounding these topics. Execution-wise, everyone did their part, helping others when needed and I feel the result was cohesive and successful.