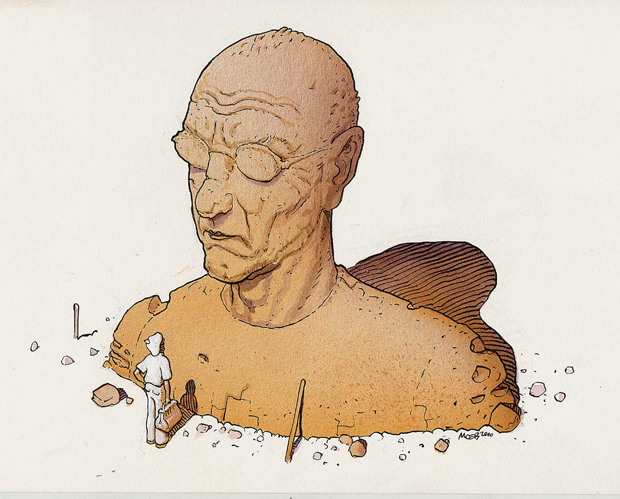 When I was looking for some references for my movie scene piece on Pinterest, I happen to come across one of Jean artworks and it blew my mind. I would call him as the father of the father of Sci-fi visual. His work inspired so many people including the founder of Studio Ghibli, Hayao Miyazaki, Blade Runner produce ect..
Jean Henri Gaston Giraud was a French artist, cartoonist and writer. Like many other great artist, Jean spent most of his childhood drawing from his own imagination and eventually he gained his place in the an art school named Ecole des Arts Applique. After a field trip to Mexico in his third year he got extremely interested in drawing desert scenery, which later on became what he is known for. In an interview, he described his experience as:
"Crossing the desert was a sort of initiation. Hours and hours of flat terrain and brilliant sunshine, interminable blue, a white hot sky, it was magnificent. It was something that really cracked open my soul."
After that one occasion, he would constantly create more desert art pieces throughout his career, particularly with his comic book series " The Wordless Epic".
Giraud's' affection for the enigmatic beauty of The Desert would manifest repeatedly throughout his oeuvre, particularly in connection with the wordless epic Arzach.
Though most of his Europe reader known him for The Blueberry comic( about western cowboy hero), but American and British audiences are more familiar with works that he created under the name Moebius. He used the signature Moenius for his science fiction, fantasy, surrealist and erotic work from the other more realistic action. Successful comics published under Metal Hurlant magazine such as The Incal and The Airtight Garage were associated with the name Mobius.
Jean was considered as the person create the visual foundation for futuristic comic and movie with his take on comic Silver Surfer: Parable, scripted by Stan Lee. Without his conceptual artwork and designs, masterpieces such as Alien, The Fifth Element and Tron would not look like how we know it to be. The most recent example would be the phenomenal comic The Long Tomorrow by Mobius, and Dan O'Bannon( the writer) is the essential visual reference for the famous film Blade Runner.
Jean leaved behind a body of work that spanned 50 years, and in the disparate forms of comic books, film, animation, illustration, sketches and paintings, across all manners of formats and languages. Even for many of his most loyal readers, there will always be new worlds to discover.
Other works from Jean:
S