Gil Elvgren was born in St. Paul, Minnesota. He went to the Minneapolis Institute of Arts for the short period of time and then changed to the American Academy of Art. After graduating, he joined the stable of artists at Stevens and Gross, Chicago's most prestigious advertising agency. During this time he got the chance to learn from the famous illustrator Haddon Sundblom, who gained his popularity from his Coca Cola Santas. Working in Sundblom's shop, Elvgren contributed to various Coca-Cola ads himself.
In 1937, Gil began painting calendar pinups girl for Louis F. Dow, one of America's leading publishing companies, during which time he created about 60 works. These pinups girls illustrations art easily to recognize because they are printed version with Elvgren's signature. In 1944, he was approached by Brown and & Bigelow to work for them as a staff artist which meant his work would be in more or less direct competition with other big names in the field. The firm offered him $1,000 per piece, which was more than what Dow was paying him. Elvegren signed a contrast with Brown & Bigelow in which he has to produce twenty calendar girls each year, ranging from cowgirls of the golden west to sultry sirens of the Riviera.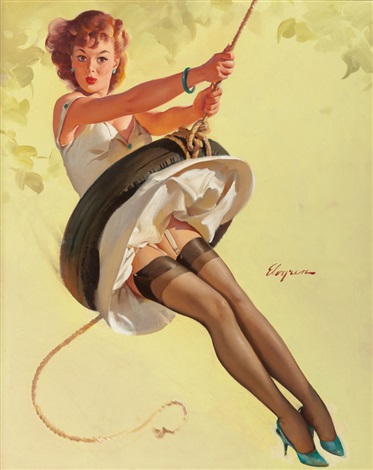 Swingin Sweetie, Brown & Bigelow calendar illustration by Gil Evgren
In 1951, Evgren salary arrangements with Brown & Bigelow changed, instead of $ 1,000 per piece, they paid him $ 2,500 per piece. With the amount of money he got from his magazine illustration and numerous national advertising accounts, he and his family moved from Chicago to the suburb of Winnetka. He started to hire a full-time assistant to help with photographing the models, forming sets with various props to portray different subjects and preparing his art tools. Having his own studio at home help Evgren work more efficiently. Eventually, after 30 years working with Brown & Bigelow Evgren retired and moved to Florida.

In order to create these pin-up girl pieces, Elvgren had to plan each of them carefully. Beginning with an idea, he would develop the visual situation and then select a suitable model for the specific setting. Then he would choose the outfit, the background, the props and the liting and finally, he would take some pictures as the reference for his piece.
My opinion :
To be honest, in my opinion, pin-up girl illustrators kind of have really similar styles. He did have a successful career and he had a really solid skill set to make these girls look as lively as possible. His colour palette is always warm, vibrant to look at but other than that his art doesn't leave a strong impression for me.