Jeffrey Koons
is an American artist known for working with popular culture subjects and his reproductions of banal objects, such as balloon
animals produced in stainless steel with mirror-finish surfaces.
He is the epitome of Neo-Pop, a 1980s movement that looked to earlier Pop artists, particularly Warhol, for inspiration. His steel Balloon Dog sculptures, probably his best-known works, transpose an ephemeral childhood memory into an enduring form. His work looks cheap, but is expensive, an ingenious reversal of economic logic that forms the basis for his stunning commercial success.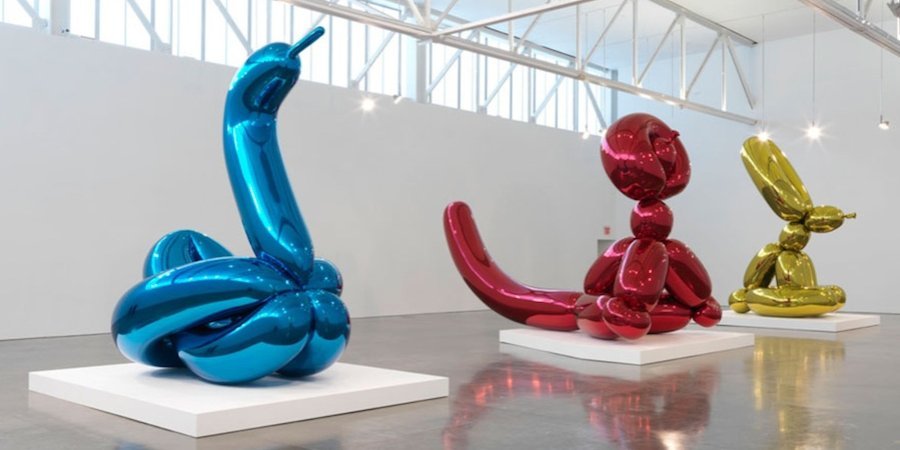 Balloon Flower (Red)
Koons' most famous works to date are the towering sculptures inspired by balloon animals. This one stands over ten feet tall and weighs in excess of a ton. Its sumptuous skin, according to the artist, is intended to "manipulate and seduce," like the Baroque decor of Christian cathedrals. Like the cheap, shiny rubber it is meant to imitate, the surface of Balloon Flower evokes the eternal appeal of precious metal.
Rendering of Play-Doh
For generations of adults, from the baby boomers to millennials, the mere sight of Play-Doh is nostalgic, conjuring the scent and tactile appeal of this strange, yet calming synthetic substance.
Sources
https://www.tate.org.uk/art/art-terms/p/postmodernism
https://www.theartstory.org/artist-koons-jeff-artworks.htm#pnt_6
https://en.wikipedia.org/wiki/Jeff_Koons#Early_Works_and_Inflatables