Bill Mauldin
Bill Mauldin was an American cartoonist who is one of the best known and best-loved newspaper cartoonists in America. He is remembered for his depiction of life in the trenches during World War 2- which initially gained him fame- and then later became known for his editorial cartoons that dealt with a wide range of social and political issues. During his time in the military where he was assigned in Europe, he produced numerous cartoons that essentially captured the experiences and emotions of an entire generation of soldiers, usually through his characters Willie and Joe, two infantrymen. He chose to draw pictures for and about soldiers because he knew what it was like and wanted to make something out of the humorous situations that came up even when the soldiers thought that life could not get any more miserable. In addition to his cartoons about fighting in the war, he also created cartoons that boldly displayed social and political commentary. For example, some of the cartoons attacked the issues of racism, the Ku Klux Klan (KKK), and McCartyism.
I find Bill Mauldin's cartoons refreshing. With his depiction of the war life, he could've made them about how difficult and miserable the experience was, but instead of doing so, he decided to turn these experiences into a humorous situation while also keeping the severity and impact the war had on the soldiers. The way he has paired his illustrations with the caption is well done and it is easy to see how he became a two-time Pulitzer Prize winner.
Artworks: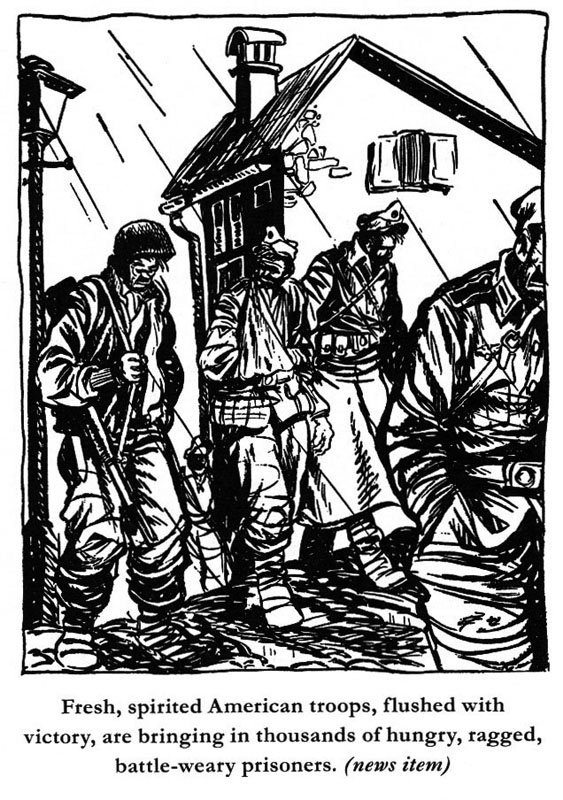 _
References:
"Bill Mauldin ‹ Jean Albano Gallery." Jean Albano Gallery, jeanalbanogallery.com/artists-a-m/bill-mauldin/.
Simkin, John. Spartacus Educational, Spartacus Educational, spartacus-educational.com/ARTmauldin.htm.
Britannica, The Editors of Encyclopaedia. "Bill Mauldin." Encyclopædia Britannica, Encyclopædia Britannica, Inc., 18 Jan. 2019, www.britannica.com/biography/Bill-Mauldin.