Who is he?
In England in 1966, a renowned artist Glenn Brown is born, and to this present day is continuing to make art in London. He has always been intrigued by artists and their paintings, so he decided to become one himself.
Brown went through an extensive amount of schooling to get to where he is today. In 1985 he completed his Foundation Course at Norwich School of Art and Design, then from 1985-1988 received a B.A. degree in Fine Art at Bath School of Art and Design, then lastly from 1990-1992 completed his M.A. degree at Goldsmith's College.
Throughout his career to this day, Brown has been a part of many art exhibitions, including numerous solo ones. However, I think the highlight of his career would be when Brown was appointed a Commander of the Order of the British Empire (CBE) for his art services from Queen Elizabeth II's 2019 birthday honors list.
What are his inspirations?
Brown has a unique technique with his art, that has caused him some grief throughout his career, and that is appropriation. He starts off with reproductions from other artists' work from living, active artists, like Frank Auerbach and Georg Baselitz, along with historical artists. Using applications like Photoshop, Brown takes their work and modifies the piece by transforming its colours, distorting, stretching, background settings, positions, and sizes. He never directly references the artist's work he takes inspiration from and adds all the alterations and combinations from several different artists.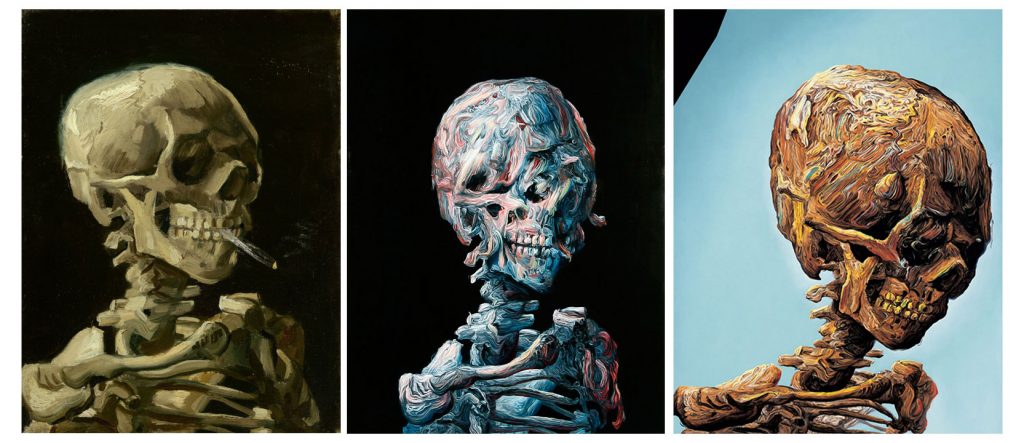 "I'm rather like a Dr Frankenstein, constructing paintings out of the residue or dead parts of other artist's work. I hope to create a sense of strangeness by bringing together examples of the way the best historic and modern-day artists have depicted their personal sense of the world. I see their worlds from multiple or schizophrenic perspectives, through all their eyes. Their sources of inspiration suggest things I would never normally see – rocks floating in far-off galaxies, for example, or a bowl of flowers in an 18th-century room, or a child in a fancy-dress costume. It's those fictions that I take as subject matter. The scenes may have been relatively normal to Rembrandt or Fragonard but because of the passage of time and the difference in culture, to me they are fantastical."

Glenn Brown
However, Brown (and I) believe he is the present-day art "Dr. Frankenstein", many of the artists whose work is acquired don't always agree and accuse him of plagiarism.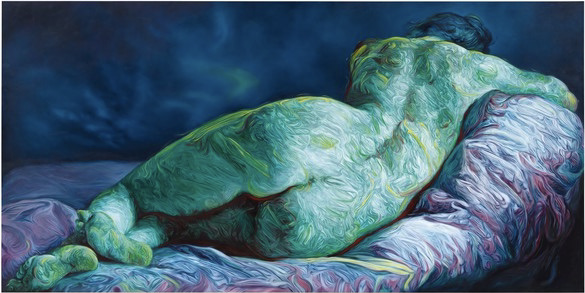 What's his style of art?
Brown's style of painting comes from his impulse to breathe new vitality into history, and he uses the form of a paintbrush to do so. His work disables common contrasts between beauty and discomfort which intensifies the emotional tension present inside.
Featured in his paintings are these captivating figures with a look as if they're painted with thick impasto, however, they're executed using thin, swirling, elongated curly, and twisty brushstrokes which produce the appearance of a flat (almost picture-like) surface. 
Brown's paintings are powerful and many of his viewers voiced their interest of wanting to "lick" and "touch" his paintings.
His paintings also often cause discomfort in the viewers with the atmosphere feeling grotesque and chilling which is emphasized by his addition of certain displeasing features. These features include rotten yellow teeth, glassy white sightless eyes, abnormal skin tones, and the implication of a repulsive smell emerging from his figures.
Often puzzlingly many of his paintings also include flowers sprouting out of their dead bodies, halos over their heads, and red noses.
"I like my paintings to have one foot in the grave, as it were, and to be not quite of this world. I would like them to exist in a dream world, which I think of as being the place that they occupy, a world that is made up of the accumulation of images that we have stored in our subconscious, and that coagulate and mutate when we sleep."

Glenn Brown
The subject matter within Brown's artwork varies from his early science-fiction landscapes over abstract configurations and still lives formulated on art historical references.
Many of the titles of his pieces refer to titles of albums or films, sci-fi literature, or a devotion to a person. Brown doesn't want them to connect to the paintings or seem to be an interpretation, however, they are meant to accompany it.
What's his art identified as?
Brown is viewed as one of Britain's most respected and admired contemporary artists. His explosive, impasto-styled brushstrokes astonish his viewers with his dramatic and twisted forms. This has also left him described as one of the greatest mannerist painters.
My thoughts
I personally really enjoyed looking at and researching Glenn Brown's artwork and life. I think it's impressive how he uses an array of vibrant colors, yet most of his work still has this lingering feeling of decay behind it. His pieces initially caught my attention because of how genuinely creepy they looked at first glance, but with the detail of such swirly brushstrokes, it's quite hard to look at it the same once you notice them. Overall, I think Brown really deserves all the attention and credit he's received over his career because I personally haven't seen art like this before, and I've really enjoyed researching the mind behind it.
Heading image cite: https://www.theguardian.com/artanddesign/2018/jan/24/inside-dr-frankensteins-studio-glenn-brown-macabre-mashups-come-to-dust-gagosian-london
Research cites:
https://en.wikipedia.org/wiki/Glenn_Brown_(artist)
https://gagosian.com/artists/glenn-brown/
https://www.xibtmagazine.com/en/2020/11/glenn-brown-and-thus-we-existed/
http://www.artnet.com/artists/glenn-brown/biography