About me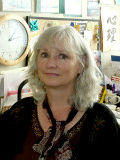 Welcome to my portfolio site! I'm an instructor at Capilano University, teaching psychology and research methods and statistics.
I've been teaching at Capilano University since 1987, and I've been a researcher and a therapist (clinical counsellor) for 35 years, interested in what helps people heal, grow, create, imagine, thrive and truly achieve their potential. This took me to focus on mindfulness and meditation; consciousness; emotions, stress and trauma;  personality and personal development; imagery and creativity; emotion-focussed, family systems, narrative & existential psychotherapies; & qualitative research design (phenomenology). And because I love the numbers, statistics and quantitative research design too.
Currently I'm researching the good, the bad and the ugly effects of our digital age on students (and on the rest of us), with its 24/7 connectivity, its tech dependence and its multiple distractions. Has there been an effect on learning and attention, on reading and studying? And ultimately on academic achievement? What strategies do students (and the rest of us) use to cope with the compelling allure of tech distractions?
I teach Introductory Psychology, Cognitive, Personality, & History of Psychology, Research Methods & Statistics, & Applied Psychology courses (Organizational Behaviour, Conservation Psychology, Interpersonal Relationships and Psychotherapy). I've always been interested in applications of psychology research to enhancing personal and organizational effectiveness, since I started my work life by working in accounting departments for a variety of small and large firms, and have continued to volunteer for non-profits since graduating with my PhD in Psychology.
And – I apply research in psychology in writing science fiction, speculative fiction, and fantasy.