Neysa McMein was an incredible woman of many talents and interests, and being a successful illustrator was only one of them. McMein was born in Quincy Illinois January 24th, 1888. McMein's art education began after she graduated from Quincy high School in 1907, and she moved to study at The School of the Art Institute of Chicago. It seems that McMein may have had some doubts about what she wanted to do, and she moved to New York city in 1913 to pursue a career as an actress. Her time as an actress was rather brief, but she participated in a few of Paul Armstrong's plays. However, in 1914 she returned to visual art and studied at the League of Arts Students. Additionally, 1914 marks the year where she sold her very first illustration. The illustration was sold to the Boston Star magazine.
In 1915 McMein began her career as a cover illustrator by selling her illustrated covers to The Saturday Evening pOst, and Puck Magazine. In later years, she would be commissioned by many prestigious magazines for her pastel illustrations women who were described as the "All American Girl". These magazines would include, magazines such as McCall's, Collier's, McClure's, Woman's Home Companion, Liberty, Associated Sunday Magazine and Sunday Magazine.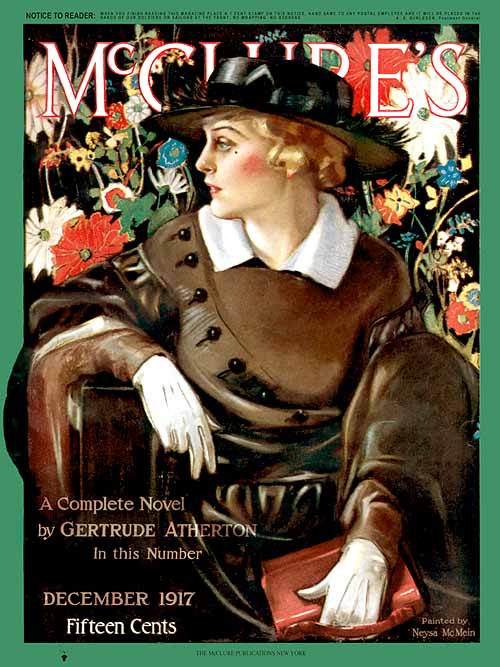 As the First World War began, McMein moved from the states to France. While in France, she worked for both the United States and French Governments and created posters. These posters were also utilized by the American Red Cross to fundraise. However, while in France she also helped worked as an entertainer(for the troops on the Western Front),and as a speaker in fundraising events. She was even awarded with an honorary position as a non-commissioned officer in the United States Marine Corps, an honour which was only awarded to three women.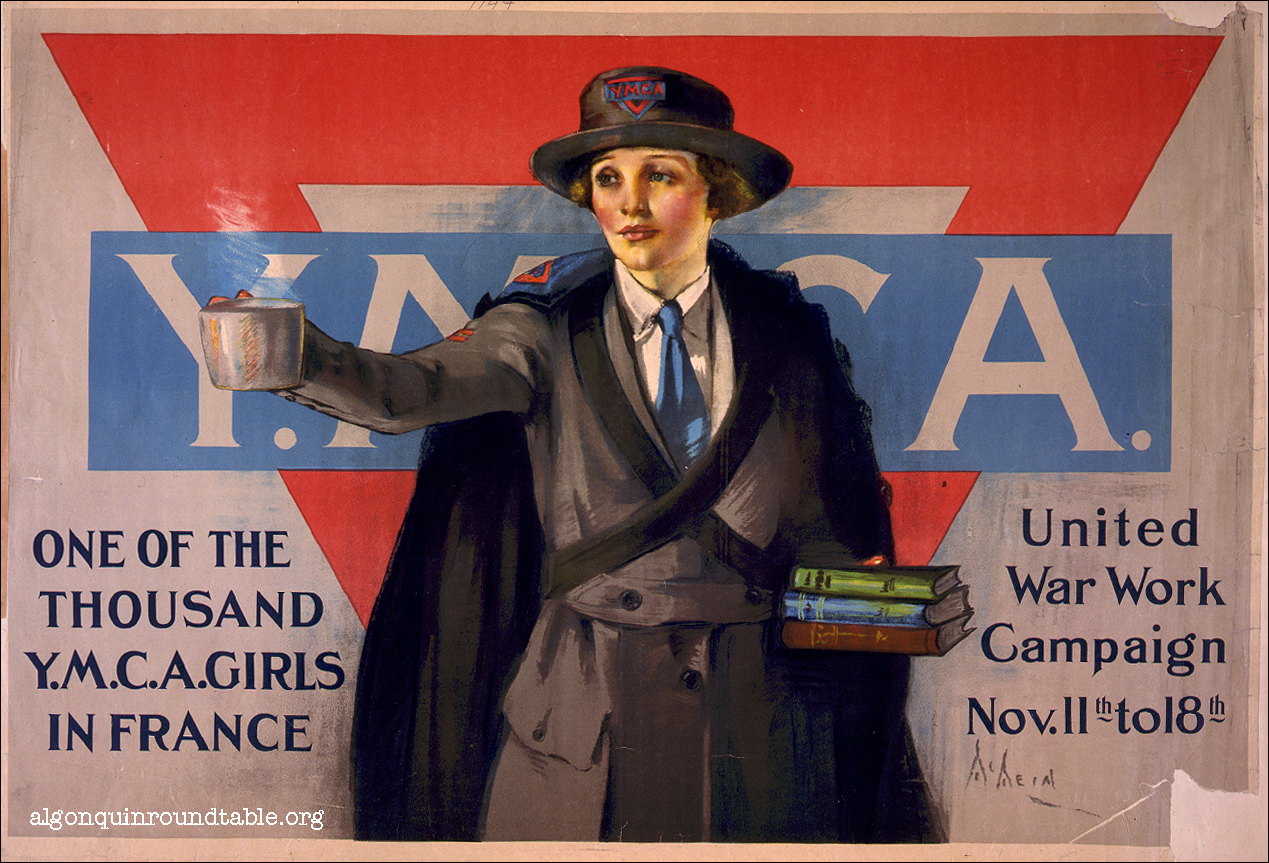 Afterwards she worked primarily for McClure's, and Good Housekeeping magazine. After the war, it can be noted that she primarily depicted proud and confident woman for the New Woman Magazine. This can likely be attributed to her stance as a suffragette.
Her 1917's cover for The Saturday Evening Post exemplifies this quite nicely. It depicts a female aviator, long before there was much there were well known female aviators . In fact, it was 6 years before Amelia Earhart would receive her pilot's license.
Other notable achievements include her creation of the Betty Crocker character ( a fictional housewife which embolden middle class domestic values of the time, and was used in advertising).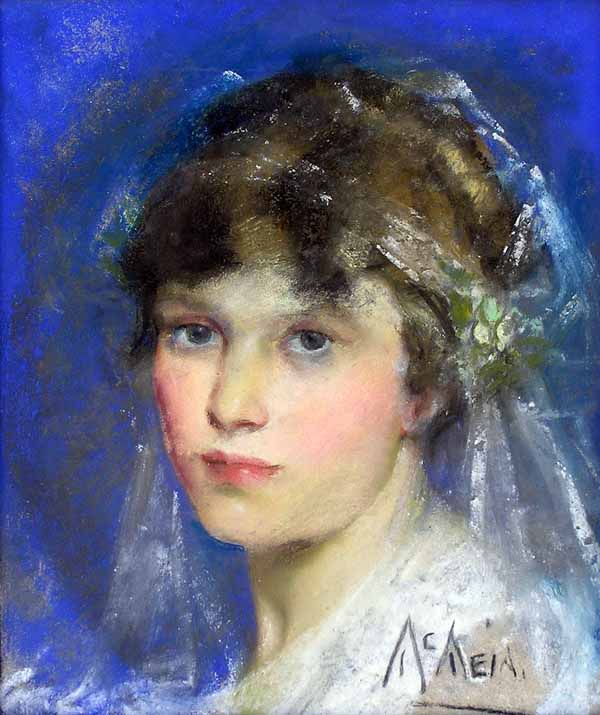 However, in the late 1930's the demand for her work decline. In 1938, McCall's Magazine didn't renew her contract to work as the cover artist. This was partly due to the fact that due to technological advances, photography was cheaper to print. As she was out of work,McMein turned to portrait. Interestingly enough, she continues to be remembered as a portrait artist. Initially she favoured pastels, but later in her career she used oils to complete her portraits. In 1984, McMein was inducted in the Illustrator's wall of Hall of Fame.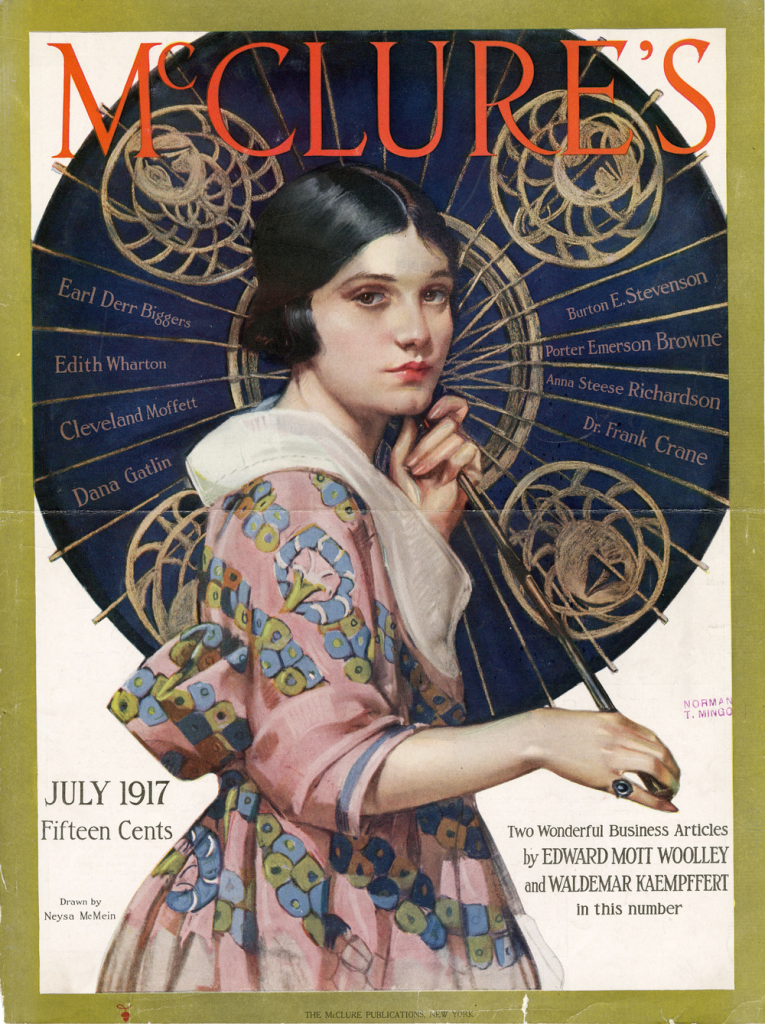 I am fond of all of McMein's work to some degree. I like the contrast between the soft medium she used, and the proud women she depicted. However, while I find that her older, pastel portraits of women are beautiful, but perhaps not especially interesting. I like her portraits very much, especially when she lets her strokes show.
Sources

https://www.britannica.com/biography/Neysa-McMein
https://spartacus-educational.com/Aneysa_mcMein.htm
http://www.americanartarchives.com/mcmein.htm
https://www.saturdayeveningpost.com/2016/03/celebrate-women-artists-neysa-mcmein/
http://www.americanartarchives.com/mcmein.htm
https://www.saturdayeveningpost.com/2016/03/celebrate-women-artists-neysa-mcmein/