Walter Crane
Walter Crane, born August 15th 1845 in Liverpool, Lancashire, England was an illustrator and prominent figure in the Arts and Crafts movement but is remembered as the (unwilling) king of children's book illustration. He worked in various different mediums, painting, designing wallpaper, ceramics, and stained glass yet he could never match the success he gained from illustrating children's books.  

Beginnings & Apprenticeship
As the son of Thomas Crane, a portrait painter and miniaturist, and Marie Crane, daughter to a successful malt-maker, Crane's interested in art was always fostered by his family. In fact, his brother Thomas would also go into illustration and his sister Lucy, would go on to become a noteworthy writer. In fact, it was his father, who was so impressed with his early watercolour work, that he introduced him to the wood engraver WJ Linton, who he would later be apprenticed to.

His apprenticeship to Linton began in 1859, and there he furthered his skill. He took influence from many sources and studied the work of old masters and contemporary artists such as Dante Gabriel Rossetti and John Millais. Crane showed a particular fondness for the work of the Pre-Raphaelites and their intense attention to detail is a quality which Crane absorbed and applied to his own work. However, Crane's work is also indebted to the work done by Japanese illustrators. Many stylistic motifs which these artists utilized are present in his own works, such as the deep space and the flat perspective and colour. This particular quality would be most strongly expressed in his work with toy books. Additionally, during his apprenticeship, he was instructed in several printing and engraving techniques.
Political Work
Just as Linton helped develop Crane's artwork he also impacted Crane's views and morality, which were largely coloured his own ones. Linton was a staunch socialist, a position which Crane took up as well. Crane believed that his art was a tool to inspire social reform (many of which he was involved in). In his own words, he stated that capitalism was an "unwholesome stimulus" for art which only created a "catch penny abomination" of cheap, commercial art. In his mind, a socialist society would only benefit art, as it would allow artists to dedicated themselves solely to their art, and not how to make a living.
Crane was held to be one of the best 1800's socialist artist and when not illustrating children's books, he worked for many socialist periodicals.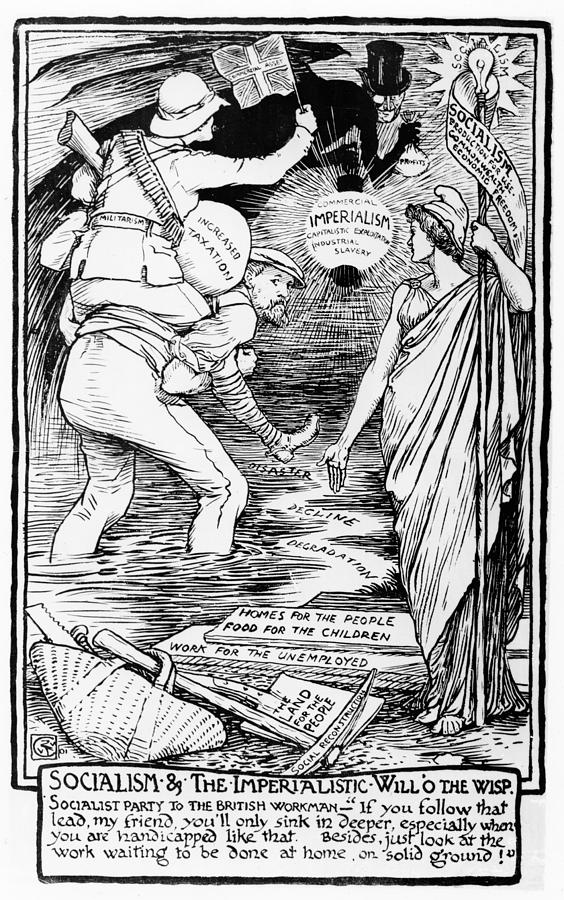 Additionally, he found many like-minded artists and was a prominent member of the Arts and Craft Movement with William Morris.
Toy Books
But all good things come to an end, and in 1816  his apprenticeship with Linton ended. However, he was quickly rewarded with a position as an illustrator for Eduman Evats, a leading woodblock colour printer at the time. Evans had him designing covers for "yellow back" books when Crane was only 18. However, it soon began clear that Crane struggled to produced everyday scenes. Evans aptly recognized his aptitude for illustrating children's nursery rhymes, fairy tales and fables and switched him to illustrate "toy books"(illustrated children's books). He also illustrated children's colouring books. Here is where Crane formed his reputation, illustrating 17 toy books throughout his career.