Coming into this project, I learned much more than I had previously been taught before. My group and I came up with many different ideas on how to increase visibility on Indigenous people and highlight their rich culture. This is how we came up with Land of Bannock. Our whole idea behind Land of Bannock was to create a space where the public could learn about Indigenous people (Musqueam, Tsleil-Waututh, and Squamish) in an engaging matter and highlighting their connection to the land that we reside on currently.
Instead of having an ordinary food truck, we wanted to create a whole experience. Our solution was to incorporate the 5 senses into Land of Bannock by producing collateral that incorporated it all.
See: food truck itself, graphics, sandwich board, microsite
Hear: Indigenous music playing
Taste: Indigenous cuisine
Smell: the smoked food from the truck
Touch: packaging, loyalty car, stickers
We wanted the public to walk away learning something new while enjoying their indigenous food made with authentic Indigenous ingredients. To begin with, the food truck itself would have facts written all over it in order to give people something to read while it's parked. We decided on a food truck as opposed to an actual shop due to the mobility of it. To support this idea, we created a sandwich board that would state a fact about the area we'd be parked (a local leader or the significance of the land). As mentioned before, our menu would consist of authentic Indigenous cuisine and also be land specific. Our packaging would share more facts on the box along with a land acknowledgment statement. We created icons that would be used as stickers and stamps to match our loyalty card which customers would be able to used to eventually get a free meal. Lastly, we created a microsite for the food truck so people would be able to get additional information once they walk away from the truck. Basically, we wanted their experience to continue even after they had left the presence of the truck.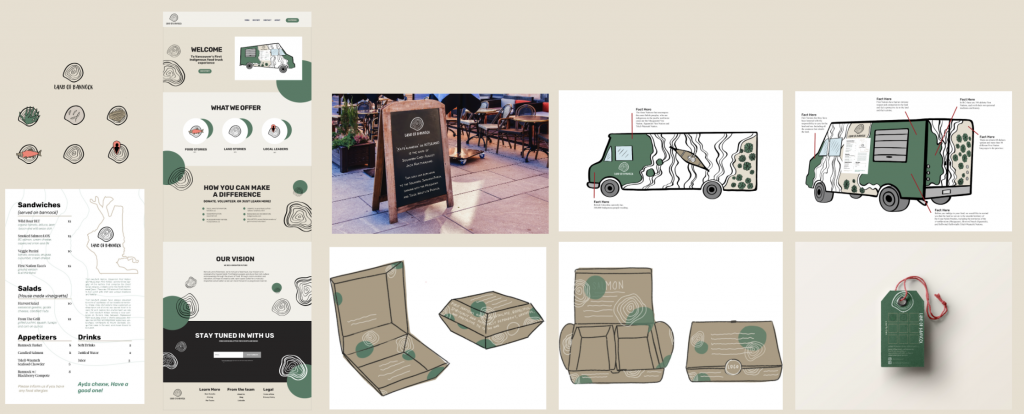 I'm very grateful we got the experience to meet & speak with Michelle and the Indigenous film students as they taught us how easy it is to fall into ignorance, even as well-hearted our intentions might seem.
I would give our project an 8/10 because I felt that we really created a unique experience that has the ability to change people's perspective towards the Indigenous community. All 4 of us worked very well as we were each responsible for a certain section and we had no problems making time to work on the project as a team although Sharleen, specifically, did an awesome job taking hold of leadership.