Paolo Veronese (Venice, 1528-1588) first gained notoriety when commissioned to work with Venetian authorities to decorate the Palazzo Ducale. He first gained public admiration here, but later went on to become a master of fresco, and is most well known for said pieces. Veronese is hailed for his compositions of foreshortened groups, as well as his masterful pairing of figures in motion against strong, sturdy backgrounds. He was a master of lighting and texture, adorning each figure with the richest fabrics that could be soft to the touch. Additionally, he is one of few of his time who personified the biblical figures. Veronese's Jesus and Mary became real people at the tip of his brush. Their genuine expressions and renderings break the typical relationship the audience has with religious artwork. The juxtaposition is one that will later define his work, but first showed up in the ceiling piece of "The Story of Esther" (pictured last below).
His style defines itself with masterful juxtaposition and illusionist perspectives. It is although the viewer is walking among his pieces; the audience is removed from their roles as observers and placed directly among the action of the piece. The Summit Lighthouse in their article "Paolo Veronese" describes his legacy.
"The striking use of color was not Veronese's only gift to Renaissance art. Paul saw beauty as the most powerful catalyst for enlightenment, and he endowed the figures of Jesus, the apostles and saints with lifelike expressions. By associating them with easily identifiable places and things, he put them within the reach of the common people…
With fresh perspective, he approached serious and sacred subjects with a simple familiarity that shattered the idolatry inherent in previous medieval and Renaissance painting—an idolatry which had separated the common people from God and his saints and oppressed them with a sense of their own sin. Veronese opened the world of the holy to all, portraying it with a delight and a sense of mirth."
A prime example of Veronese's collection  of skills is his series "Four Allegories of Love," pictured below.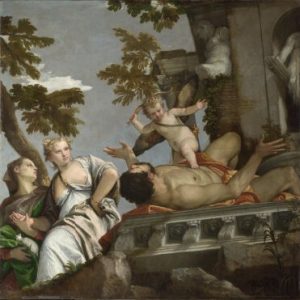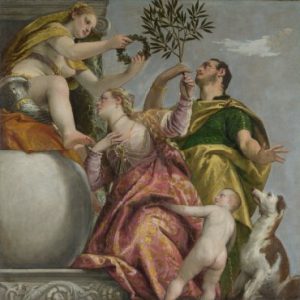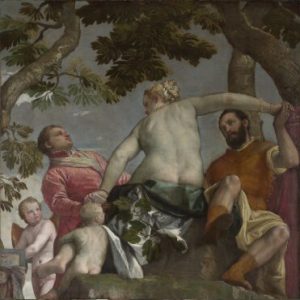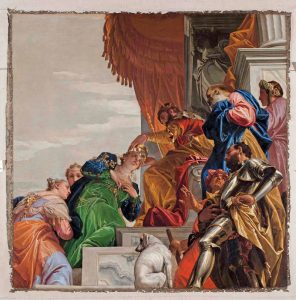 Articles and Photos:
https://www.nationalgallery.org.uk/paintings/paolo-veronese-unfaithfulness
https://www.nationalgallery.org.uk/paintings/paolo-veronese-scorn
https://www.nationalgallery.org.uk/paintings/paolo-veronese-respect
https://www.nationalgallery.org.uk/paintings/paolo-veronese-happy-union
https://www.britannica.com/biography/Paolo-Veronese