Stop everything you're doing and read this. You think pop culture is weird now? Get a load of this shit.
Elektro the Moto-man was, indeed, the worlds first robot celebrity. He doesn't quite stand up to apples Siri and Amazon's Alexa, but has some pretty astounding endearing qualities for the day.
Standing approximately 9 feet tall, the man-made-of-gears represents an odd optimism that was harboured among American citizens during the great depression. People were looking forward to better times, and that meant being terribly imaginative. Things were pushed to futuristic extremes, and Elektro was quite literally the physical embodiment of it.
He was talented! Tall! Handsome! And could perform a whopping 26 tasks! Ladies, who needs a man when you can have a nine foot robot who can smoke?
If it sounds like Elektro's creators were trying to make him be the optimal interesting human, you'd be correct. He (It?) was designed to be an entertainer above all else. He could blow up balloons, smoke a cigarette, even flirt with audience members using his 700 words of built in vocabulary. Flirting was popular with Elektro. "Toot" was a popular adjective within his vernacular, because it was the 1930's and when you're a 9 foot electric human in the 1930's, that's what you call people. Obviously.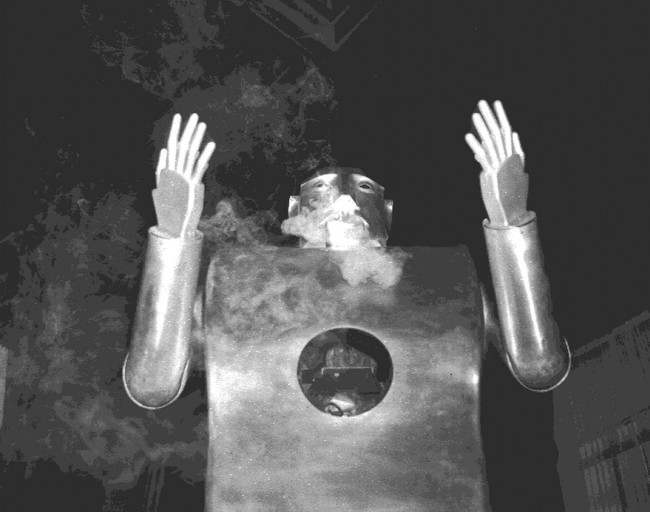 His limbs were functional, he could move them, but whether or not he could successfully walk is unclear. His (still unsure if this situation requires pronouns) body consisted of gears, a speaker, and aluminum sheets, which appear to be spray painted gold. A dream man if you ask me, even complete with a bushy moustache.
The phenomenon was popular at the time, but Elektro the Moto-Man has mysteriously been swept under the rug within the discussion of history. Possibly because he was solely created for entertainment and didn't serve the public in any other way than making them laugh and blush on occasion, but most likely because people prioritized the War and the technical innovations that occurred in more useful areas (no offense, Elektro).
However, whether Elektro is on the covers of our history books or not, there is no question of his influence. Today we see artificial intelligence making its way into almost every aspect of our homes: we have Google Homes, Amazon's Alexa, and not to mention Siri.
You could say that a direct descendant of Elektro is Sophia the Robot, a highly controversial AI creation that pushes the boundaries of technology and blurs the lines of artificial humans and real breathing ones. Perhaps we would never have these robotic companions had it not been for our faithful Elektro.
Our tin-clad companion was first unveiled at the New York World's Fair in the 30's but now stands tall in the Washington D.C. National Building Museum. Well, kind of. It's a replica, but pretty damn close to the real thing. No word on whether his flirting game is still as strong, but one can only hope.
Lecture Summary:
Today we had our last lecture! I'll never see "Done Talkin'" again, and I'm a little heartbroken. I've really genuinely enjoyed this class and the lectures that come with it. It's fascinating to see the context in which our entire modern communication is built, and I feel fulfilled leaving with a whole new lexicon of inspiration to work into my art. Thanks Judy, for being so patient with us and always being kind. I really appreciate your class and the way you've taught it.
Anyways, sappy shit over, today we talked about the 1930's and 40's. This is a particular topic that I happen to know quite a bit about, so it was really nice to learn more about a time period that I'm passionate about. I was particularly interested to hear about the designers migrating to the US, seemingly in flocks, and the way that they immediately brought American design from a mediocre-genre to an iconic representation of businesses on an international level. Especially the Container Company, and their conceptual representations of their brands. It was kind of mind blowing that business ads did not have to directly focus on the product. I've never seen that before, but I'll certainly be incorporating it in to future projects.
Sources:
https://www.history.com/news/1939-worlds-fair-new-york-technology-robot-flashback
https://www.theatlantic.com/technology/archive/2011/02/elektro-the-moto-man-one-of-the-worlds-first-celebrity-robots/71505/
https://www.grunge.com/101415/bizarre-things-happened-great-depression/
1939 New York World's Fair Presented By Elektro The Smoking Robot – In 80 Photos