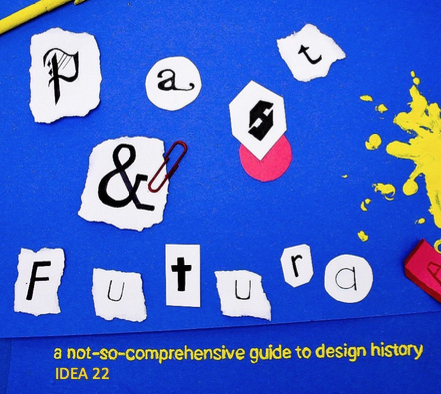 For the final assignment, I was paired with Janelle. We chose to do separate designs that would still have the potential to work together given the chance. Janelle chose to do a fully illustrated backside, and I chose to do a sort of in-progress shot for the front side, using tactical materials that we are all so familiar with during our first semester. I chose to do this design for a multitude of reasons; I wanted to represent the class and our first semester here at IDEA, which has been full of traditional mediums and a multitude of paint splatters and construction paper scraps. I also wanted to honour the class's humour, as we all have taken on a similar outlook as we've grown together through the months (yes, puns have become a common factor within the group, whether we like it or not). 
I wanted to depict a project mid-progress, including how messy and hap-hazard it was. I found myself searching for design solutions in this project in this exact way, and thought it would be nothing but appropriate to embody my ideas thus far. I chose the primary colour scheme to keep the eye pleased and at ease, while keeping each object emphasized and separate while all still remaining cohesive. The title is of course a reference to the communications history course, and the heavy focus on fonts and type.
Overall, although unplanned, I think mine and Janelles sides work nicely together. It's as if the front cover is the class starting the project, and Janelles illustration on the back is the finished product. If I could change anything, I would suggest the two sides be more similar in their colour palettes. Janelle and I mostly depended on one another for critique and ideation, something that we both expressed that we struggled with. I was glad to work with her regardless of the more independent approach we used. The front and back covers we designed could be selected on their own and be a nice compliment to any other student's work they could be paired with. 
Overall, I would grade myself as an 8/10. I like my concept, but again it could have been more integrated with Janelles. However, the image did turn out exactly how I envisioned, and I am very happy with the concept and work that I put into it. Breaking out into a non-illustrative design pushed my comfort zone a little, and I am proud of myself for that.