Growing up as the son of noted political caricaturist John Doyle, Richard grew up in his fathers art studio, absorbing any illustrative teachings he had to offer. Richard Doyle grew up in a creative environment, and aged with a love of the fantastical and the grotesque. Childhood consisted of a love of fairytales and stories, and would become his life's work as he pursued his illustrative career.
Doyle's first published illustrations appeared in the Eglinton Tournament, a comedy set in the middle ages. The ornate, dark, and natural feel of Doyle's work lended itself to the time period. It was a natural fit. Shortly after, he would collaborate with several artists to illustrate a set of Charles Dickens books, including The Chimes, The Battle of Life, and A Cricket on the Hearth. Once again this commission was perfect for Doyle's style. Theres a traditional feel to his work, most likely because he originated the style, but the idea of Dickens and Doyle are almost synonymous because of it.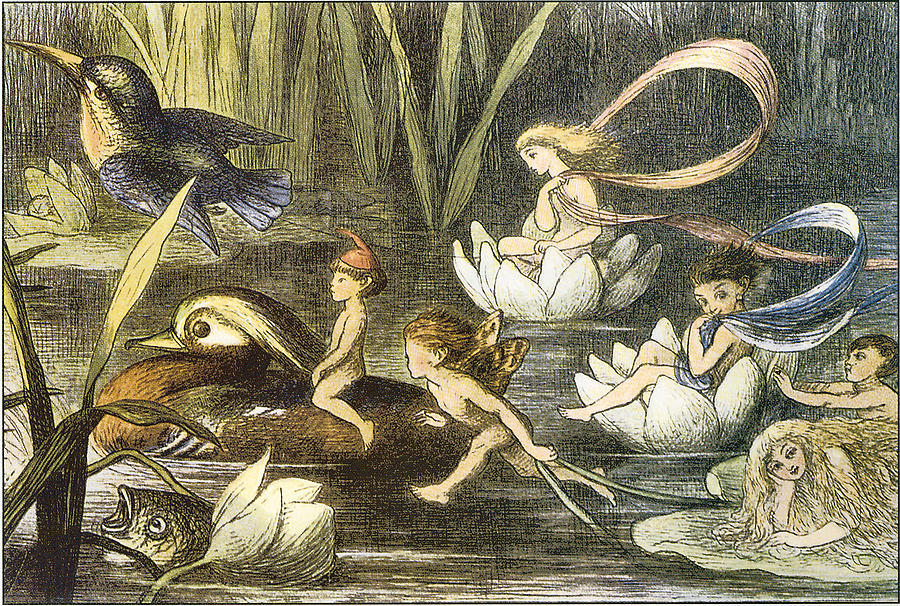 Most prominently, and what solidified Doyle's reputation, was his illustrations for the book "The Fairy Ring," by the Brothers Grimm. From then on, Doyle was the go to name when thinking about fairytale illustrations. He provided the visuals for what are now the stereotypical images of fairies. Much like Howard Pyle's creation of the typical pirate, Doyle was responsible for the modern day fairy.
The strange thing about Doyle's career is that he was an extremely devout Roman Catholic. One wouldn't expect a man of such intense faith to spend his life illustrating monsters and fairies, but that's exactly what he did for many years. However, while employed under Punch he resigned his position when tasked with commissions that featured a theme of "papal aggression."
In summary, looking at an overview of Doyle's work brought me back to many favourite childhood books. I hadn't realized that Doyle basically formed the idea of the child-like fairy. Although seen before with previous artists and illustrators, Doyle left a lasting impression on the publics conscious in regards to the word "fairytale." His dark, curiously fascinating world he created is most effective in the way that it is not covered in bright colours and sparkly characters. The illustrations make it appear as if this world is occurring at the same time as ours, in the corners of our gardens, in the middle of our forests. Reviewing his work, that's exactly what I love the most about it, the mix between real and fantastic, and that my world could be equally as real and fantastic as Doyle's.
https://en.wikipedia.org/wiki/Richard_Doyle_(illustrator)
http://www.artcyclopedia.com/artists/doyle_richard.html
https://archive.org/details/mannerscustomsof00doyl/page/n6